The Avengers are on their way to a new adventure in the latest episode of "Hawkeye," but there's still one mission that needs attention: the team is looking for an old friend.
IGN's review of Hawkeye – Episode 3 "Echoes" is a great read. The episode has some amazing action scenes, and the characters are well-written.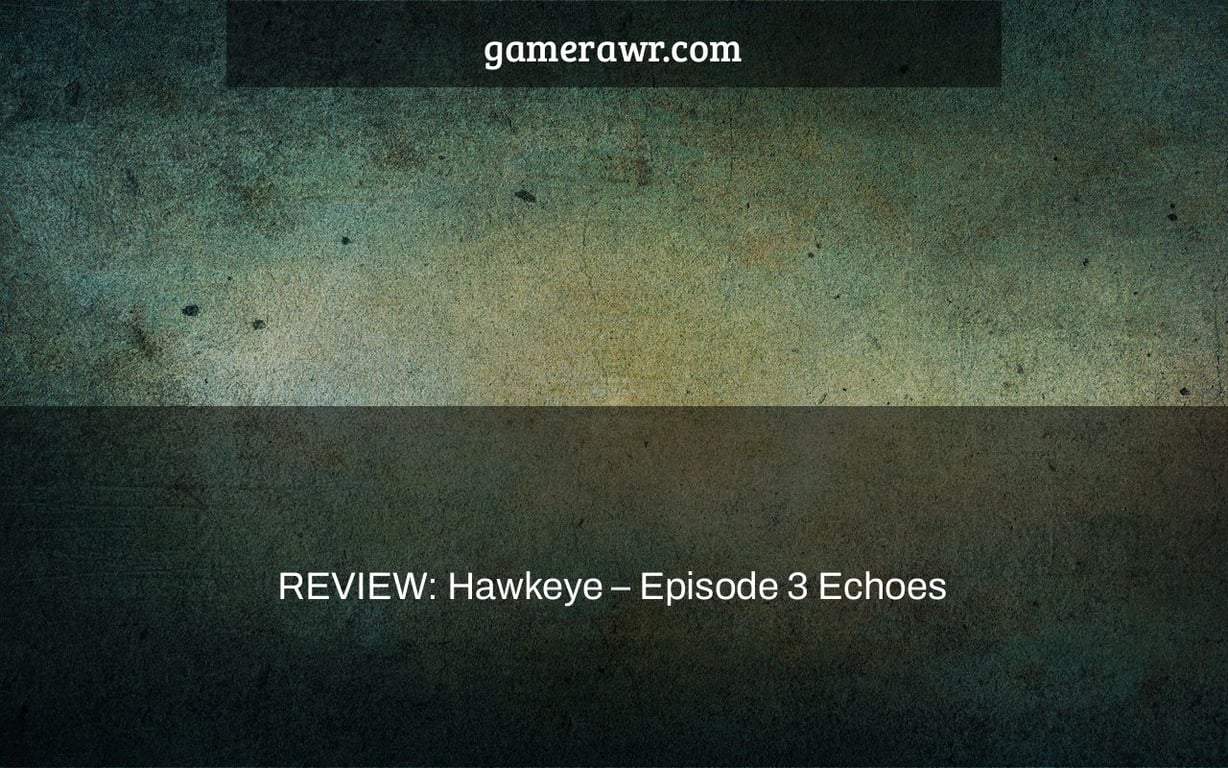 Hawkeye – Episode 3 "Echoes" REVIEW
Reviews of television shows
The most aggravating kind of episode is "Echoes." On the one hand, it's undoubtedly Hawkeye's greatest film yet, with great character development and a fantastic action scene. However, it also highlights the show's flaws, and the contrast teases what Hawkeye might have and should have become while equally highlighting what it is.
Clint and Kate discover more about their enigmatic captor. Clint is feeling the pressure of being apart from his family over the holidays. Kate examines her ominous soon-to-be stepfather. There's a lot of bonding, dog walking, and trick arrows. A memento from my youth pulls at my heartstrings. (I, too, am prone to nostalgia on sometimes.)
The pre-title sequence of "Echoes" is Hawkeye's greatest work to date. It's a small origin narrative for Maya Lopez, the deaf ringleader of the – as a human saying this, I feel weakened – Tracksuit Mafia, from her infancy and revelation of her deafness through her early days in semi-organized crime. Maya eclipses Kate in these 10 minutes and emerges as an intriguing new character with a sympathetic backstory and terrifying talents. Underneath the quiet assassin appearance is a young girl who has lost the one person on the planet who understands and accepts her. The fact that her father's murderer is revealed throws the show's conflict into a new light.
*SPOILERS*
Is it possible to blame Maya for wanting to assassinate Ronin? Because we see him via Maya's eyes, Hawkeye frames him wonderfully for us. We recognize that he's a criminal who has most likely done much to deserve his fate, but all we know about him is that he was a nice father who loved his daughter. We identify with him and Maya because of the visceral experience of his compassion; we witness our father die in Maya's arms, and in that instant, we want her to achieve her retribution. That's excellent character development and narrative; Maya is a villain with whom we can relate and empathize, even if we don't want her to murder Clint in the end.
What a shame "Echoes" starts with Clint and Kate tethered to those ridiculous bouncy horses in the abandoned toy shop (which is revealed to have previously been a KB Toys; this meant more to me than the many, many nostalgic allusions we're bombarded with today). They're surrounded by the Tracksuit Mafia, who are still a bunch of dumb buffoons, and they're gyrating back and forth in what someone plainly thought was a good sight joke. Until Maya walks into the room, there is no sense of danger. (I realize that's somewhat of the goal, but it makes them seem like dead weight in every scene they're in.) Hawkeye's tone is all over the place, as it is in so much current entertainment, and it affects the story.
It's also unfocused, which is a flaw, because it revolves on Kate Bishop. "Echoes" outlines what this program should have been about in the first place – and I believe it was before Kate was pushed into it. This was supposed to be a more serious narrative about Clint atoning for his misdeeds, faced against someone he injured who seeks due retribution. Clint's hearing aid takes on new significance because of Maya's deafness; he's battling the loss of his hearing while she's long accepted it, much as he wants to be better than his terrible history while she slips into darkness after losing her lone light. You can already see hints that he's picking up on what Maya's father taught her about how to use her impairment. Even in the episode's closing scene, Jack is seen assaulting Clint with Ronin's sword, implying that Clint's dark history is attempting to kill him. This has the potential to be fantastic, and the performers demonstrate that they could have done a fantastic job with it.
But no, we're in the era of legacy heroes today, so they skipped through a wonderful Hawkeye narrative to satisfy their need for torch-passing transitions. By becoming Clint's co-lead, and particularly by being his obvious successor, Kate Bishop detracts from his journey. Hawkeye no longer feels like a part of Clint's growth since we know in the back of our minds that this is merely his goodbye so Kate can take over. It's a pity since Hailee Steinfeld is excellent in the part (what the heck happened in the first episode? ), but the character belongs somewhere. Neither should the humor, which is wide and unnecessarily ridiculous, and detracts from any emotion established in any particular moment. I'm not saying there shouldn't be any comedy, but it should fit the tone better; snarky one-liners rather than bouncing horses and foolish henchman.
This tone change is also noticeable in what is mostly an action sequence. Clint and Kate's escape from KB Toys and the accompanying car pursuit are well-shot and exciting, with the Tracksuit Mafia's corny crap being muted by the fact that they're in automobiles and not talking. But it's overshadowed by Kate's blundering trick arrows. This is intended to be a field test of her archery abilities; wouldn't it look nicer if she wasn't shooting purple goo arrows? (The Pym Particles arrow, on the other hand, gives me a kick.) And, once again, what should be a personal endeavor for Clint becomes an overt declaration that "This is Kate's show now." I can see how the action may be used to remark on the show's themes; I just wish they were better and more consistent.
Other enjoyable moments may be found throughout "Echoes." Clint's struggle with his hearing loss provides for some amusing sequences, and his discussion with Kate on the metro had me laugh out loud. His phone conversation with his kid is painful, and Jeremy Renner masterfully captures the grief of a parent yearning to be with his family. (This also serves as a lovely mirror for Maya and her father; Clint's kid is getting a taste of what all of Maya's Christmases will be like, owing to his father.) When Clint rejects being a role model and Kate reminds him how incorrect he is, Renner shows Clint's sorrow in his voice. Making Kate a Clint fan without the archery and the heritage nonsense would have been a better use of her time. The usage of Christmas music continues to thrill me; placing the vehicle pursuit to "The Nutcracker Suite" (or, at the very least, a rendition of it dubbed "A Mad Russian's Christmas" by Trans-Siberian Orchestra) was fantastic. And if the mystery person patting Maya's face in the flashback is who I believe it is, that's motivation enough to keep watching.
"Echoes" is the finest Hawkeye episode yet, but its unevenness is a disappointment. Its outstanding character work for Clint and Maya hints to a far stronger program, but its goofy comedy and change in emphasis to Kate prevent it from reaching its full potential.
Plot – 7
Acting – 9 points
9 – Progression
9 – Production Design
8 ACTIONS
8.4
"Echoes" is the finest Hawkeye episode yet, but its unevenness is a disappointment. Its outstanding character work for Clint and Maya hints to a far stronger program, but its goofy comedy and change in emphasis to Kate prevent it from reaching its full potential.
Watch This Video-
"Hawkeye – Episode 3: Echoes" is the third episode of the series, and it's a great one. It's filled with some really tense moments that kept me on the edge of my seat. The story is also complex and interesting, even if you haven't read the comics. Reference: hawkeye episode 3 cast.
Related Tags
hawkeye episode 4 review
hawkeye episode 3 reddit
hawkeye episode 3 ending
hawkeye episode 3 watch online
hawkeye episode 4 recap